Installation Concert and Online Composition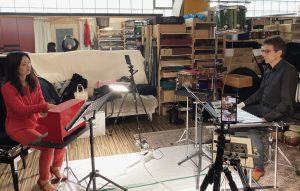 ODD COUPLES is an innovative project from composer Gordon Williamson and video artist Sascha Hahn. The piece is a collection of 24 duos for unusual and unexpected musical pairings – always miniatures – that will exist online but that can also be performed as a hybrid piece: with some duos performed live and some projected on screens. The Odd Couples catalogue is rich and diverse collection of musicians and instruments that offer the listener a journey through various epochs, cultures and even tunings. Tuba and electric guitar, flexatone und trombone, baroque organ and harmonica… always a surprising combination and a touch of humour!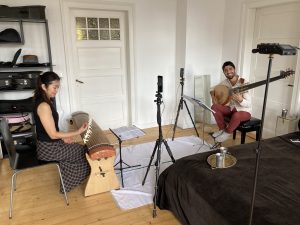 The starting impulse for the project is an installation concert in the Sprengel Museum Hannover on March 6th, 2022 at 3pm. Half of the duos are performed live and the other half are projected on the walls of the museum, further ensemble works for variable instrumentations from Williamson, Stockhausen, Andriessen und Tenney are also on the program. The public in invited to wander through the installation concert and discover their own unique path through the music.
The first six videos of the ODD COUPLES catalogue came online in February. From March through May there will be roughly two new videos a week posted to the main project page. Once completed, the listener/viewer is free to peruse through the composition in any order they wish.